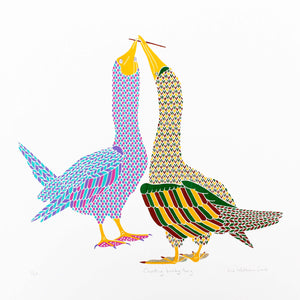 Courting booby twig
Regular price
$125.00
Sale price
$200.00
Original hand pulled screen print
6 colours
50 x 50 cm
Heritage White 315 gsm paper
Edition of 50
Darwin found these cute little birds on the Galapagos Islands. The brighter the foot, the more successful and popular they were. They have evolved further to follow current fashions. These colourful patterned blue footed booby birds are performing a mating dance. The male bird is offering the female a twig for their nest to show what a good provider he will be for her.
Signed and numbered on the front at the bottom.

Orders are carefully wrapped, rolled into a strong tube and despatched by Royal Mail Special next day delivery signed and tracked within three days, usually quicker. 
Overseas orders are rolled into a strong tube and sent by courier.
---
More from this collection