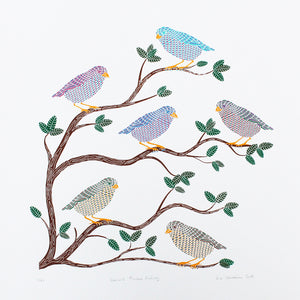 Darwin's finches evolving
Regular price
$125.00
Sale price
$187.00
Original hand pulled screen print
10 colours
50 x 50 cm
Heritage White 315 gsm paper
Edition of 50
Darwin formulated that 'species that changed and adapted to their environment would be the ones that survived'. I have taken the small ground finch and given it different coloured feathers.
Signed and numbered on the front at the bottom.

Orders are carefully wrapped, rolled into a strong tube and despatched by Royal Mail Special next day delivery signed and tracked within three days, usually quicker. 
Overseas orders are rolled into a strong tube and sent by courier.
---
More from this collection