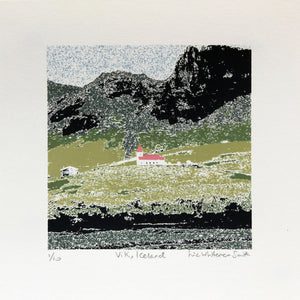 Vik, Iceland - Mini print
Regular price
$65.00
$0.00
Original hand pulled screen print
6 colours
Image size: 12x12 cm on 18 x 18 cm paper
Heritage White 315 gsm paper
Edition of 20
Beautiful church with pink roof, set in a landscape above the black basalt sand beach at Vik, Iceland.
Vík is a remote seafront village in south Iceland with a black basalt sand beach. It sits in the shadow of Mýrdalsjökull glacier, which is on top of the Katla volcano. An eruption of Katla could melt enough ice to trigger an enormous flash flood, potentially large enough to obliterate the entire town. The town's wooden church, located high on a hill, is believed to be the only building that would survive such a flood.
There is a legend of a husband who found his wife taken by the two trolls, frozen at night. The husband made the two trolls swear to never kill anyone ever again as his wife was the love of his life. Her spirit wanders out among the trolls, rocks, and sea at Reynisfjara.
---
More from this collection